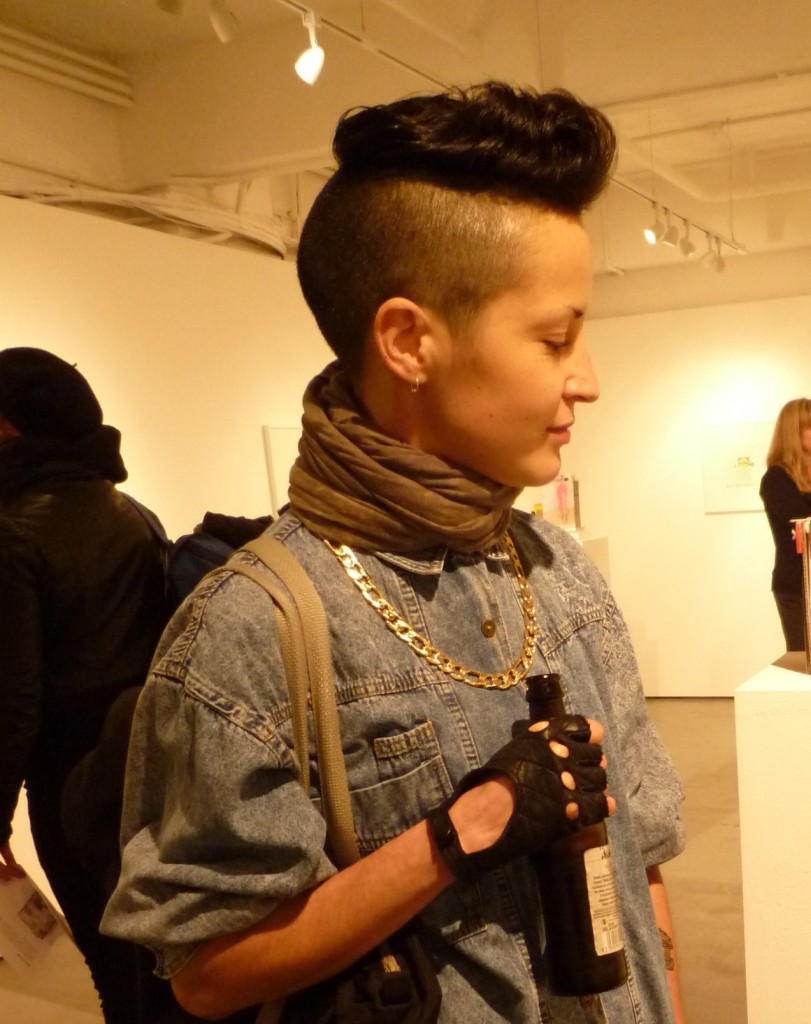 There's a quiet explosion of urban art at the moment, and one of the most exciting new names emerging in the field is Anka Dabrowska. She studied Arts at the University of Northumbria and has built a reputation in group shows in London and across Europe. Her first solo show, Welcome to Paradise at PayneShurvell Gallery until 18 December, showcases recent work about her native Warsaw- fantasy model buildings or 'kiosks' made of found material, and fine drawings of features in the urban landscape, from supermarket signs to tower blocks. With her punky hair and gold chain jewellery, Dabrowska looks like street crew, but when she puts her glasses on, she suddenly becomes quite scholarly. Like her, the work has a considered urban cred.
Her cardboard Sex Shop would certainly be a Welcome to Paradise to people I know, but I started by asking her if the Paradise she refers to is Warsaw?
AD: No, Warsaw is not a Paradise in its true meaning of the word… I try to show an ugly-romantic Warsaw… (an) unobvious beauty. The title for my show comes from one of my photographs (taken) while on recent research trip in Warsaw. I was in Praga region of Warsaw and found myself in a back street of a very old estate. There, I found this graffiti written on brick wall: 'Welcome to Paradise'.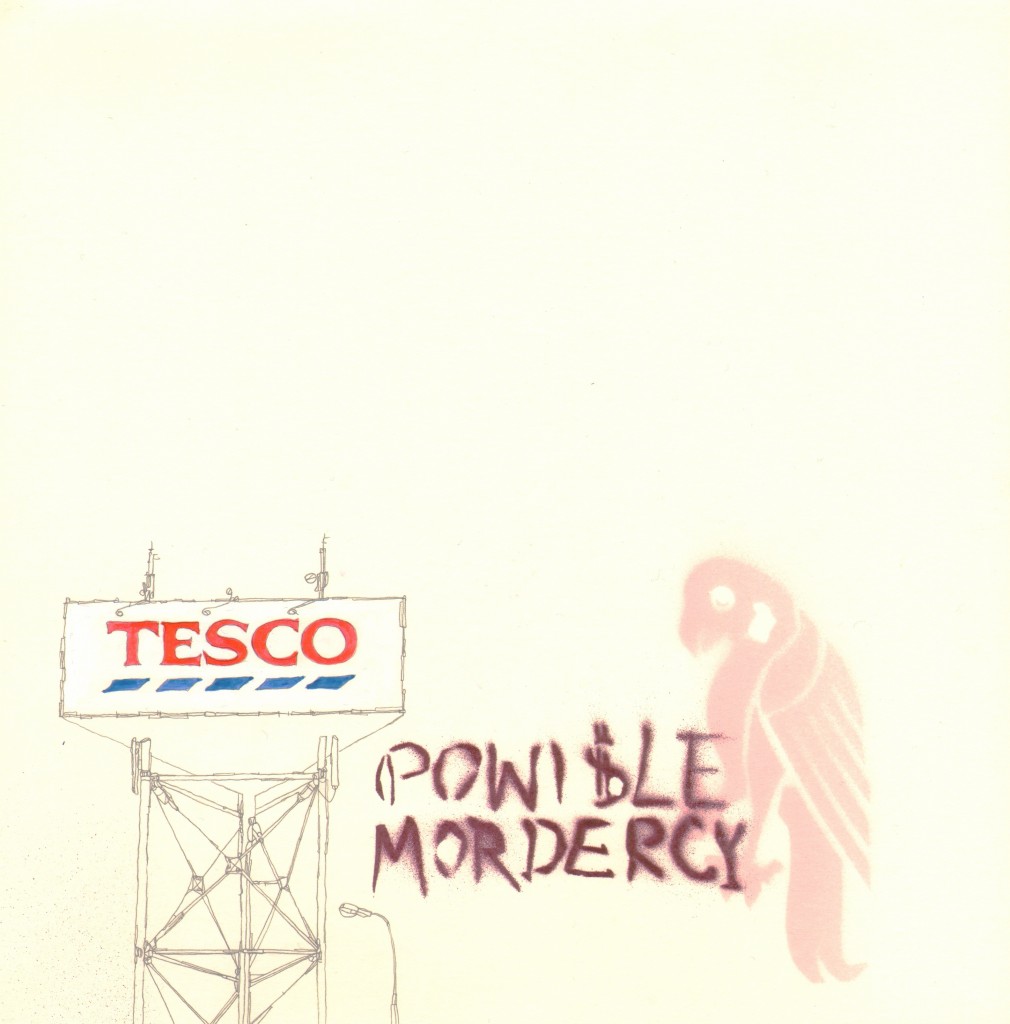 HW: Do you think that the brand-names in your work, like the drawing of a Tesco sign or the labels on found material in your kiosks, say something about the rapid consumerisation of post-Communist Polish society?
AD: Yes totally! I am fascinated by this random mix of western motifs/brandings within eastern architecture/urban landscape. When I was growing up in Warsaw there were no such signs. McDonalds did not exist back then but now Warsaw to me is so Westernised! It is changing rapidly from year to year and I want to document this change…a city in constant flux…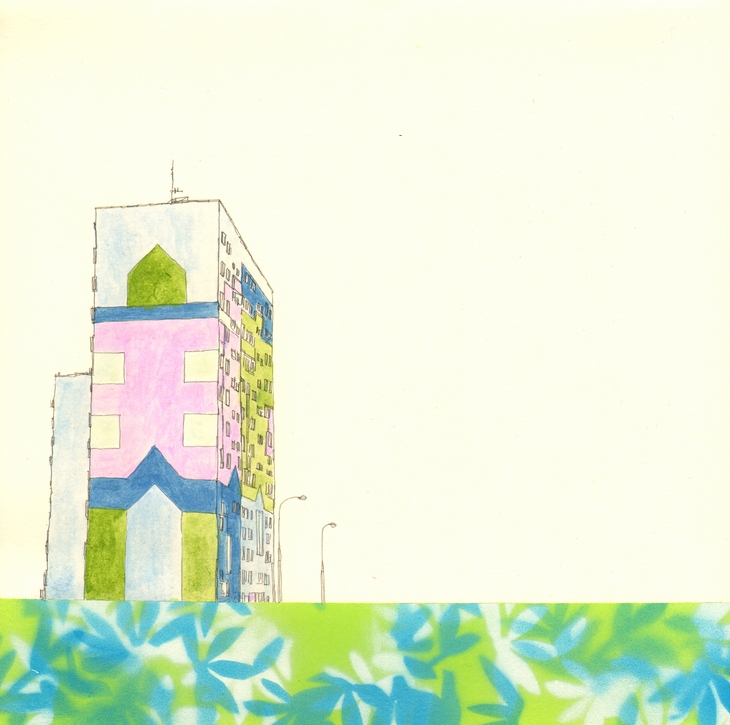 HW: Do you have a nostalgia for the old urban landscape of Warsaw- those great big socialist housing blocks, for example, right in the city centre?
AD: Huge socialist buildings in Warsaw tend to divide people: some find in them some kind of beautiful ugliness, others absolutely dislike them or even hate them. Warsaw seen through an eye of an artist and trough an eye of an architect could almost become two different cities…
I don't ever see my work as nostalgic… (I'm) not interested in nostalgia, more of here and now, going back to the past landscapes to understand the present. I am very interested in how our experiences of the same place change within time. Places change constantly, we change constantly and so do our memories…
HW: Is your psychgeographical exploration of Warsaw like Situationist Guy Debord's 'dérives' through Paris?
AD: Yes, I guess it is. By mapping the city through intense research projects, often retracing the streets and buildings of my childhood in Warsaw, my work attempts to reconcile and relocate the luminal position of the outsider by constructing my own imaginary world in the form of drawings and models. I think by doing this I am trying to understand who I am now, how my upbringing in Warsaw has shaped me and made me who I am and how I am now…
I have a constant feeling of being inside and outside, a native and a foreigner. It is this sense of inbetween-ness, more than the experience of living in blocks of flats that shapes my art practice. Beyond these reflections, my work resonates with the increasingly alienating conditions of urban life in general
HW: Kiosks are a feature of ex-Soviet cities (and co-incidentally a building form that may be on the edge of revival here, for example in the ideas of architect Peter Cook). So what is it about kiosks, those and your own ones?
AD: The tenuous status of kiosks, with their makeshift structures hovering between public and private, between interior and exterior space, can be seen as a metaphor for my own conflicting sense of belonging and nationhood. As a Pole who spent her teenage years in the Middle East, and much of my adulthood in London, I draw from my identity as both insider and outsider in Poland.
(My) kiosks (are) crudely crafted from cardboard, wood, photographs and concrete. These structures reference Warsaw architecture, resembling claustrophobic spaces of (its) tower blocks, kiosks and domestic spaces. I carefully balance the aesthetics of recuperated packaging and the grittiness of urban decay. I use these various found materials for their textures and colours and see them as yet another mark-making tools. Fabricated from cheap, trashy materials that, like ready-mades, reveal the vestiges of their earlier use, in some places only loosely attached, in others taped together, these pieces are characterized by an extreme fragility.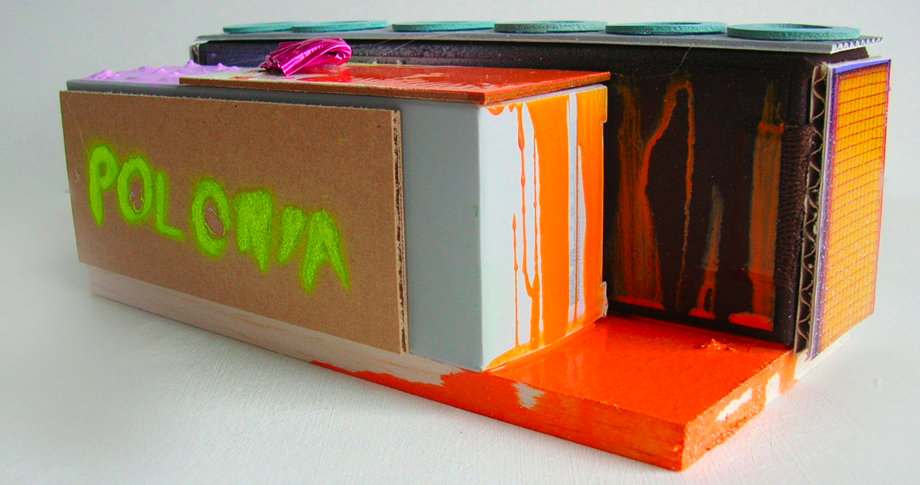 HW: Spray-paint graffiti also features large in your Warsaw.
AD: Anti-Semitic graffiti can be found on the walls in various Polish cities. In Warsaw such graffiti are a frequent feature of the verbal war between the fans of Legia Warszawa and Polonia.
There is a wonderful relationship between the fine and very controlled line of graphite pencil and almost 'hard to control' mark made using spray paint. Graffiti tags are signatures that re-mark the territories and add meanings to the city.
HW: What does the writing mean in the Tesco drawing?
AD: 'Powisle mordercy' means 'Powisle the murderers', Powisle is the name of one of the Warsaw's football teams.
HW: Drawing or 3D constructions- which is more important to you?
AD: Drawing is the foundation of my practice. I see all of my work as drawing or as extension of drawing – whether it is drawing on paper, 3-D object or installation.
HW: What is the biggest difference between the urban landscapes of London and Warsaw?
AD: I think Warsaw's urban landscape differs on many levels: because of its history, how it was totally destroyed during the second world war and rebuilt from scratch. The social realist architecture has got HUGE presence in Warsaw and also there is a sense of unfinishness to the city, happy accidents that went wrong… Historical monuments, most of which were rebuilt from scratch after the World War 2, coexist with numerous examples of social realist architecture, including housing estates of grey concrete tower blocks, as well as ultra-modern glass office blocks erected after 1989.
HW: When you write Warszawa Wita (Warsaw Greets) on a rough chunk of masonry, it suggests a brutalism about the place.
AD: Warsaw (is) often invoked as the epitome of the brutal environment produced by Soviet aesthetics and planning, its name conjures up a grey, faceless world of tower blocks and Orwellian governmental buildings; it's image perhaps more than of any other city in the former Soviet block-inextricably tied to the fate of the Communist system Warsaw appears to have been locked in the vice of history-crushed by one totalitarian system, remade by another, only now being liberated by market forces. The history of this power play is only one of the stories that can be told about the life and environment of Warsaw.
HW: And what about London? You have drawn places on paper bags like Battersea Power Station, the Barbican and a Chutney Hut.
AD: These were specifically commissioned pieces from London collectors who wanted me to draw London buildings. When the time is right I will no doubt make work about London. Right now it feels to close to home!
HW: Aha! But what your drawing of the Broadgate Tower (incidentally, designed by Adrian Smith, the Chicago architect of Dubai's Burj Khalifa) looming over the PayneShurvell Gallery?
AD: Yes, that was specifically commissioned by the gallery for the invitation (to its opening show A Bright and Guilty Place, in June). You're right!
HW: Finally, what are you doing next?
AD: My next project is continuation of what I am doing already, making new kiosks/sculptures and drawings. However, I am actually going to go back to Warsaw next year (at the invitation of the) 'Fundacja Sztuczna' to do an artist in residency there. I never exhibited in Warsaw before. My other next project is to go and spend some time in a new city, one I've not been to before…stay there for few months and then make work about that city/my experience of it…
Payne Shurvell Gallery is open Wednesday- Saturday 11-6,
16 Hewett Street EC2A 3NN
payneshurvell.com/exhibitions/
Welcome to Paradise runs until 18 December
Anka Dabrowska is in conversation with curator Dan Cox at PayneShurvell Gallery at 7pm, Thursday 2nd December
Categories
Tags