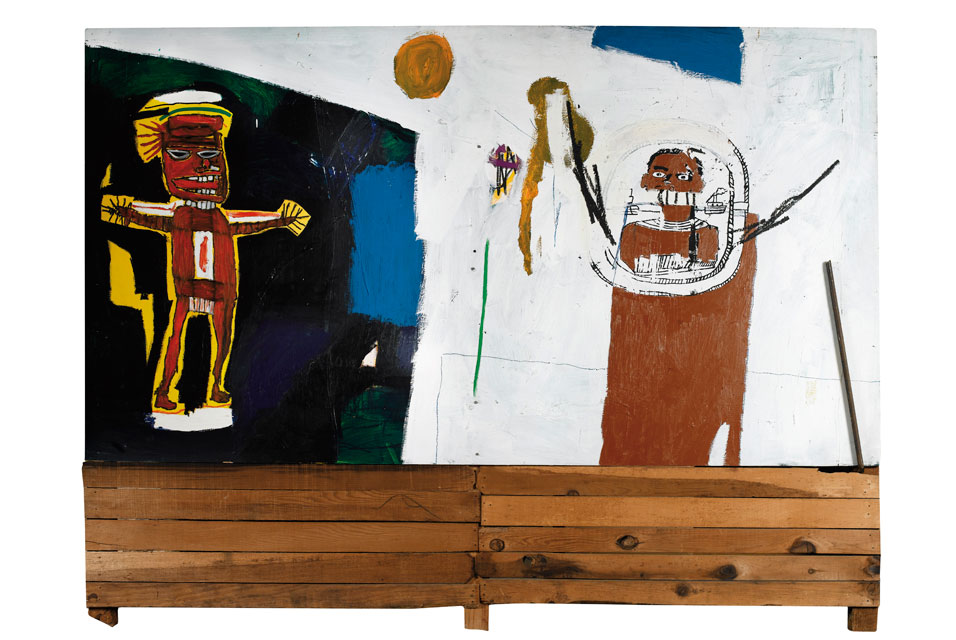 Image:Jean-Michel Basquiat (1960-1988), Water-Worshipper, 1984. Acrylic, oilstick, silkscreen, wood and metal on panel, Estimate: 2 300 000-3 000 000 €. Photo: Sotheby's.
Sotheby's upcoming sale of Contemporary Art will feature two sessions at the Galerie Charpentier in Paris on December 7 & 8.Coinciding with the Basquiat retrospective at the Paris Musée d'Art Moderne, Sotheby's will offer Water-Worshipper, an iconic work from 1984, when Jean-Michel Basquiat was at the height of his powers. The canvas, kept in the same collection since it was acquired in 1988, evokes Basquiat's Haiti origins and minority oppression in the Americas. Water-Worshipper is the contemporary work with the highest estimate (€2,300,000-3,000,000) to be offered at Sotheby's Paris since 2008.
The Evening Sale on December 7 majors on a European Private Collection assembled between 1960-75, containing sixty carefully chosen works now appearing at auction for the first time. Three works from the collection were offered at Sotheby's Contemporary Art sale in New York on November 9/10, while paintings by Victor Brauner and Wifredo Lam will feature at Sotheby's Impressionist & Modern Art sale in Paris on December 8th.
One of the most eagerly awaited lots is sure to be Maria Helena Vieira da Silva's 1951 Interior or Composition (est. €300,000-450,000*). This is a painting of similar quality to her 1960 Hiver (Winter) which fetched a world record €1,095,150 at Sotheby's France in June 2010. Her Terrasse Ensoleillée from 1952 is also in the sale (est. €220,000-280,000).
Other highlights from the collection include Arman's Colère de Cithare (End of The Third Man Theme) from 1962 (est. €80,000-120,000); and two rare Concetto Spaziale ceramics by Lucio Fontana, made 1960-63 (est. €120,000-180,000 et €100,000-150,000).
One of the stand-out lots in the Evening Sale is a series of ten Andy Warhol silk-screens of Marilyn Monroe published by Factory Additions in 1967, each signed and numbered on the back (est. €1,000,000-1,500,000). Warhol's Marilyn portrait is without doubt his most famous work, embodying the desires and dreams of a decade whose heroes came from the worlds of sport, television, politics and cinema. The complete portfolio of this famous print is being offered at Sotheby's Paris for the first time.
The Evening Sale continues with three works by Jean Dubuffet: a monumental sculpture from 1971, entitled Métalogie aux Turbulences (est. €700,000-900,000); a paper bottle from 1935 (est. €250,000-350,000); and his 1952 oilon-canvas Paysage aux Cicatrices (est. €100,000-150,000).
The Day Sale on December 8 includes an imposing automobile compression by César, Shock Red 165, from his celebrated 1998 series of monochrome compressions made from Fiat cars, and exhibited at the Fondation Cartier pour l'Art Contemporain in 2008 (est. €150,000-200,000).
Other highlights include a canvas by Georges Mathieu, Retrait d'Hugues de Payens (1958), acquired directly from the artist by the current owner (est. €80,000-120,000); further paintings from 1958 by Jean-Michel Atlan (est. €60,000-80,000) and Maurice Estève (est. €18,000-25,000);
Maurice Estève's Bouleru (1976), consigned from a private European collection and kept in the same family since 1977 (est. €100,000-150,000); and a Sam Francis Composition (Blue, Orange, Yellow) from 1959, in watercolour and gouache on paper, reproduced on the cover of the Day Sale catalogue (est. €60,000-80,000).
The same session also includes a 1970 polyester sculpture by Jean Dubuffet, Escabeau (est. €70,000-90,000); a 1990 canvas by Kazuo Shiraga, Sui Getsu Renko (est. €50,000-70,000); and two works by Victor Vasarely – his 1976 Pétété (est. €60,000-80,000), and Harlequin II (1935-1976, est. €60,000-80,000).
Viewing
Friday 3 December 10am-6pm
Saturday 4 December 10am-6pm
Monday 6 December 10am-6pm
Tuesday 7 December 10am-2pm
Categories
Tags