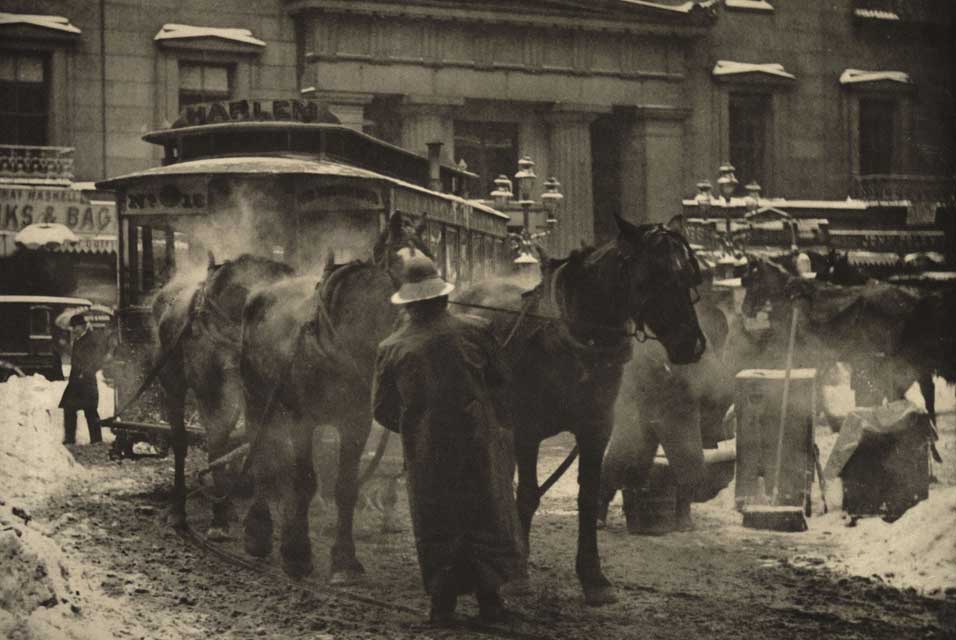 Image:The Terminal. Photo: Alfred Stieglitz Collection, Courtesy of the Board of Trustees, National Gallery of Art, Washington.
A new exhibition of photographs by Alfred Stieglitz offers a view of New York City at the turn of the 20th century through the eyes of one of the world's most celebrated photographers.
"Alfred Stieglitz New York" at the Seaport Museum New York features 39 vintage photographs, many shot from the windows of his midtown-Manhattan apartment and galleries. It opens on Wednesday and runs through Jan. 19, 2011. It is the first time these works are being shown together since 1932 when Stieglitz showed them at An American Place, a gallery he operated from 1929 until his death in 1946, said the exhibition curator Bonnie Yochelson. The photographs cover the periods from 1893 to 1916 and 1930 to 1935, contrasting Stieglitz's images of Old New York with later images of the city as it emerged as a great metropolis.
Assembled from the collections of about a dozen major American museums and individuals, the Seaport Museum photographs include Stieglitz's iconic print of the Flatiron building near Madison Square Park. The soft focus, misty print was taken on a snowy night, and like many of his images, it has the quality of a painting.
Another print, "The Terminal," depicts another wintry scene of a horse-drawn omnibus on a slushy street in front of the old Post Office in the city's financial district.
The exhibition features three platinum prints, taken in 1915 from the back window of "291."
Highlighting the museum's seaport theme, the exhibition features "The Ferry," a moody, dark picture of a ferry boat near Cortlandt Street in lower Manhattan, one of a series of harbor pictures, all taken by Stieglitz in 1910.
A separate gallery contains a small presentation of Stieglitz's lantern slides, the precursor of the old-fashioned slide carousel, that never have been shown before. The slides, scanned by the museum from originals, were used by members of the Camera Club of New York, of which Stieglitz was a member, to show each other their latest work.
"Stieglitz loved the medium, he thought it was beautiful to have these translucent projected images," Yochelson said. The third and last gallery of the exhibition is called "The Face of New York." It contrasts Stieglitz's personal vision with a variety of material by other artists to show the wide variety of imagery of New York that was developing during his time.
About Mark Westall