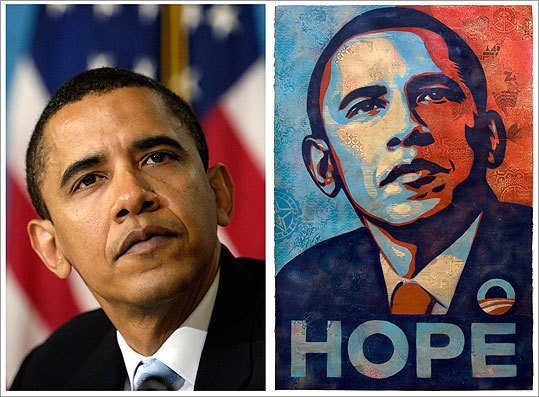 A March trial date was set Monday to decide whether the artist who created the Barack Obama "HOPE" image violated The Associated Press' copyright when he based the image on one of the news agency's pictures.
U.S. District Judge Alvin K. Hellerstein said Monday that the selection of eight jurors for a three-week trial will start March 21 in New York. Artist Shepard Fairey appeared in court with his lawyers Monday but declined to comment afterward. Fairey sued the AP last year, arguing that his artwork during Obama's 2008 run for the presidency did not violate AP's copyrights.
The news cooperative countersued, saying the uncredited, uncompensated use of its picture violated copyright laws.
One of Fairey's lawyers, Geoffrey Stewart, told Hellerstein that Fairey will show at trial how he made the Obama image, calling it a work of art based on one photograph.
"It's really quite simple," he said.
Dale Cendali, a lawyer for the AP, told the judge that Fairey said during a recent deposition that the artist initially believed he created the Obama image from a portion of a photograph that included the actor George Clooney with Obama, as his lawsuit claimed.
Earlier this year, it was disclosed in court that Fairey is under criminal investigation after he said he erred about which AP photo he used as a basis for "HOPE." He acknowledged that he actually based his artwork on a picture of Obama that did not include Clooney, that he had submitted false images and deleted other images to conceal his actions.
The AP photographs were taken in 2006 when then-Sen. Barack Obama was seated next to Clooney at a press event in Washington. Via:[Art Daily]
Categories
Tags