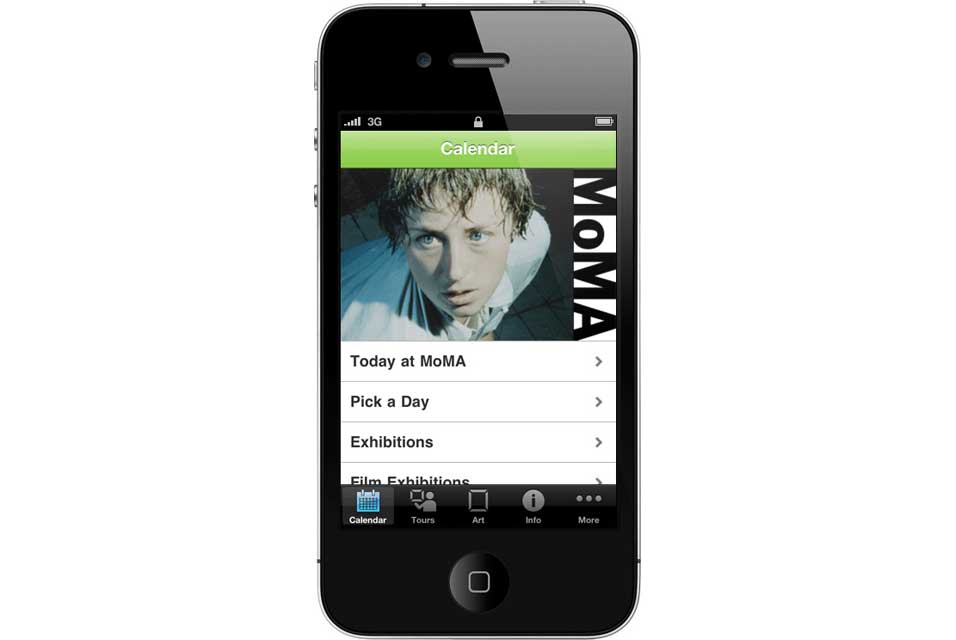 The Museum of Modern Art today announces that the MoMA App is now available on the App Store. The new application for the iPhone and iPod touch provides users with instant access to 32,000 works of art in the Museum's vast collection of modern and contemporary art; a dictionary of art terms and a database of artist bios; calendar information for exhibitions, film screenings, and events; and a variety of audio tours, including special tours for children, teens, and the visually impaired.
The MoMA iPhone Application Features:
• A Calendar of current and upcoming exhibitions, daily events and film screenings, with the ability to share via Facebook or Twitter.
• Tours, which include the MoMA Audio programs, with five distinct tour options, such as Special Exhibitions, Modern Voices, Modern Kids, MoMA Teen Audio, and Visual Descriptions, and the ability to browse by floor or stop number.
• An Art index of over 32,000 works featured in the collection as well as a database of art terms and artist biographies.
• Information about the museum, including hours, admission and transportation.
• MoMA Snaps offers the option to take a picture in the Museum and send it as a Museum postcard.
• MoMA Tracks allows visitors to select tracks from their own music library to listen to while exploring the Museum or the MoMA App.
• Access to MoMA resources on iTunes, iTunes U, and YouTube.
The MoMA App is available for free from the App Store on iPhone and iPod touch or at www.itunes.com/app/moma.
Categories
Tags