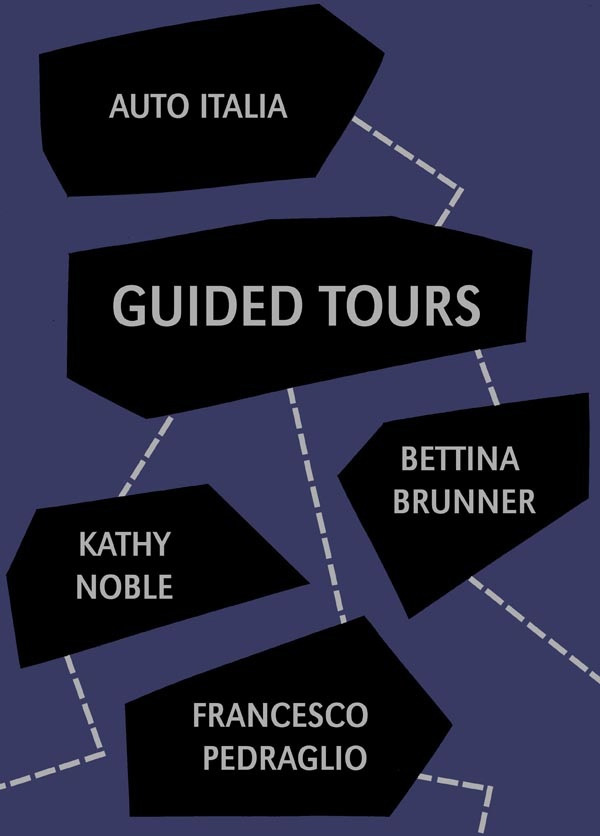 BETTINA BRUNNER / KATHY NOBLE / FRANCESCO PEDRAGLIO a permanent project for Auto-Italia organised by Katie Guggenheim
Three curators, Bettina Brunner, Kathy Noble and Francesco Pedraglio, present fictional guided tours of Auto-Italia through the medium of writing. The guided tour, an established museological convention, is used here as a means to visit exhibitions that don't exist. The tours will be permanently available to visitors, as three alternatives to the exhibition on show, for as long as Auto-Italia remains at its current location, an old Volkswagen garage which is awaiting demolition.
BETTINA BRUNNER has written a conversation between herself and Dan Graham based on interviews and the artist's writings concerning architecture and space. Bettina is Exhibitions Co- ordinator at the BFI and a regular contributor to Frieze Magazine and Springerin.
KATHY NOBLE has reviewed an imaginary exhibition, addressing authenticity through performance and re-performance. Kathy is a writer and Assistant Curator at Tate Modern.
FRANCESCO PEDRAGLIO will focus on the building itself, imagining possible pasts and futures. Francesco co-founded the curatorial project space FormContent, edits the quarterly fanzine The Mock and other superstitions, and is a London editor for Kaleidoscope.
Open by appointment please contact info@autoitaliasoutheast.org
Auto Italia South East is a project space which aims to explore and support the practices of a growing peer group of artists. It is focused on sustainability, creating networks and opportunities for young artists to produce new work.
Auto Italia is supported by the Arts Council England, The Elephant Trust, and The Chelsea Arts Club Trust.
Via [auto-italia south east]
Categories
Tags