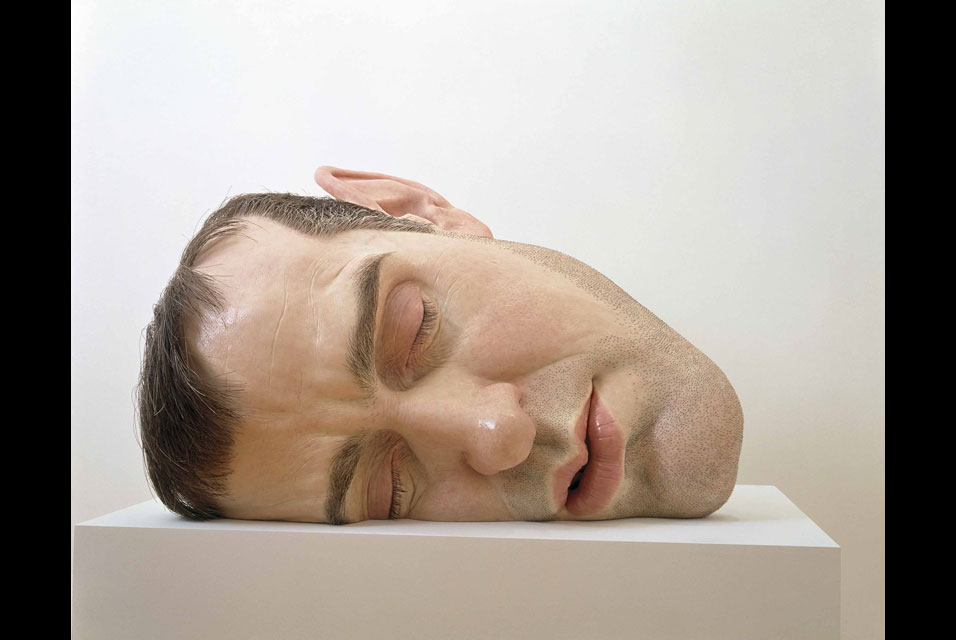 Ron Mueck, "Mask II" 2001–02. Polyester resin, silicone, polyester monofilament, 77.0 x 118.0 x 85.0 cm. Collection Anthony d'Offay, London ©Ron Mueck. Courtesy Anthony d'Offay Ltd, London.
The National Gallery of Victoria presents a major exhibition of the work of internationally renowned sculptor Ron Mueck. Known for his extraordinarily life-like creations, this exhibition features twelve sculptures by Mueck including four new works. This is the largest and most comprehensive Mueck exhibition ever to be held in Australia.
Frances Lindsay, NGV Deputy Director, said: "Since his dramatic entry onto the international art stage, Mueck has continued to astound audiences with his realistic, figurative sculptures and now occupies a unique and important place in the field of international contemporary art."
David Hurlston, Curator Australian Art, said Ron Mueck's poignant sculptures illustrate timeless human conditions from birth to demise.
"Mueck's sculptures range from puckish portrayals of childhood innocence to acute observations of stages of life; from birth to adolescence, middle and old age, and even death. Many are solitary figures, psychological portraits of emotional intensity and of isolation," said Mr. Hurlston.
The exhibition draws from Australian and international collections, highlights include: "Mask II 2001/02", "Man in a Boat" (2002), "Old Woman in Bed" (2000/02), "Wild Man" (2005), "Two Women" (2005), "In Bed" (2005), and through the generosity of a private collector from the United States, the iconic work "Dead Dad" (1996/97). In addition to these there are a number of new works created specifically for this exhibition which were unveiled for the first time in Melbourne.
In his early career Melbourne-born Mueck worked as a puppet maker, however since 1997 he has been entirely devoted to making sculpture. In 1996, he was 'discovered' by British advertising guru Charles Saatchi, who included Mueck's "Dead Dad" as part of the history making Sensation exhibition the following year.
Mueck went on to represent Australia at the 2001 Venice Biennale, capturing worldwide attention for his 4.5 metre sculpture, "Crouching Boy". Since then, he has become one of the most significant figures in the contemporary art world.
Mueck's work is currently held in the collections of Art Gallery of NSW, National Gallery of Australia, National Gallery of Victoria, McClelland Gallery and Queensland Art Gallery.
Ron Mueck will be on display at NGV International on St Kilda Road from 22 January until 18 April 2010.
Ron Mueck is a National Gallery of Victoria touring exhibition and will travel to Queensland Art Gallery from May 8, until August 8, 2010 and to Christchurch Art Gallery from September 30 until January 23, 2011.
About Mark Westall