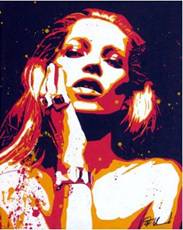 The Brick Lane Gallery is pleased to present a dynamic group exhibition "Art in Mind" featuring 15 Contemporary and Street artists from different artistic and cultural backgrounds. The show will host a selection of international and UK artists, presenting diverse selection of influences.
Artists taking part will include:The Art Tart, Sheefali Asija, Sharon O'Brien, Stephanie Escorial, Lawrence Taylor, Grazia Baffigi, Paola Boni, Laura Bruno, Antonio Casali, Sebastiano Longretti, Kyoko Kumamoto, Elio Maffeis, Fabio Usvardi, Nadia Valente, Fiorella Paiano.
The ART TART takes part in this show with her clever and humorous stencil works on canvas. She took the Banksy Cans Festival by storm with her shocking stencil paintings and she previously worked with Damien Hirst on his spin paintings and Butterfly pieces during which she would collect the left-over paint to make her own self-portraits. Bending over riding a spray can and farting roses reveals a playful side to her light-hearted approach to her practice.
The Art in Mind will showcase 10 artists from Italy represented by New ArteMisia Gallery (Bergamo). Each of these artists truly represents their artistic personality and inspiration, touching social and contemporary issues. Fabio Usvardi paints instinctive nature contrasts with the brushes, spatulas and his hands, stretching the color directly to canvas and merging together figuration with abstraction. Painter Laura Bruno approaches the public by introspective interpretation, richness of colors and ethnic atmosphere. The feminine figure is the subject of artist and architect Antonio Casali, his art works shows a strong link with his origins and with traditional values. Elio Maffeis' artistic world, whose artworks are present in various private Italian collections, is far from what described until now, and from traditional representations, he depicts Indian landscapes, showing a very unique atmosphere. These are just four of ten artists showing their works in ART IN MIND.
UK artist Lawrence Taylor mainly produces digital images on paper and canvas, presenting highly conceptual ideas. Painter Sharon O'Brien has always been inspired by nature and the natural world and has developed her style into semi contemporary abstract using the natural elements of nature in her work. Sheffali Asija portrays the personalities of African children, using strong and individualization, expressing the emotional world of depicted characters. Stephanie Escorial paints psychedelic landscapes and fictional characters often fueled with a drippy spray can effect. Her characters strike a strong contracts against the exotic and acidic colors of illumines oranges and greens.
The Art in Mind Exhibition will continue until the 27th April and is open daily from 1 to 6pm.
Categories
Tags