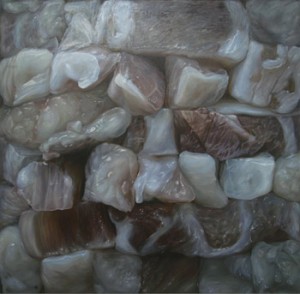 Opening Reception: Saturday, November 1st, 5-7pm
Cindy Wright November 1 – December 20, 2008

Mark Moore Gallery is pleased to present new paintings from Belgian artist Cindy Wright. Wright's large-scale portraits and still-lifes embrace oppositions, the distance between which might be crossed in a few steps or might be too blurry to even define. Wright forces her viewer to scrutinize often-unconsidered yet vital minutia; skin, fat, ripples in fabric or internal organs. Yet her claustrophobic focus offers a false intimacy; in order for the images to remain recognizable, the viewer must remain at a distance; upon closer inspection the canvas pleasingly dissolves into a collection of abstract brushstrokes. Paradoxically, despite this painterly presence, her use of photographs as source material strips her works of any tenderness. They retain a detached and sterile quality, their function a clinical observation. Nevertheless Wright's work displays no awkwardness on behalf of these conundrums; rather her canvases are effortless displays of art historical awareness, their solemn beauty at once familiar and disquietingly innovative.
[There] is a special sort of thrill to that moment when, stepping back from a canvas, a seemingly chaotic mass of brushstrokes crystallizes suddenly into a crisp, recognizable image.
Holly Myers
Cindy Wright received her MFA from the Royal Academy for Fine Arts Antwerp, Belgium and has completed postgraduate studies at the Higher Institute for Fine Arts, also in Antwerp, Belgium. She has exhibited widely throughout Europe and within the United States, including a solo show at the Las Vegas Art Museum, NV. Her work has been met critical acclaim with reviews in the Los Angeles Times, to give an example. Last year Wright won the AON prize. This will be Wright's second solo show at the Mark Moore Gallery. She lives and works in Antwerp, Belgium.
In the Project Room:
Jason Salavon
November 1 – December 20, 2008
Opening Reception: Saturday, November 1st, 5-7pm
Mark Moore Gallery is pleased to present new work in the project room from acclaimed artist Jason Salavon. Salavon's work employs self-scripted computer programs to process and reconfigure data gleaned from an all-encompassing cultural panorama. The resulting works range from transubstantiations of intangible statistics into visual abstractions, to literal depictions of the homogenizing effect of an inundation of images. By not committing to any particular source, Salavon's work serves to highlight the larger implications of how information is produced and processed rather than critiquing any given subject matter. Although Salavon's reordering of information is technically entirely objective, the works produced are anything but neutral. Simply through reformatting, Salavon prompts the viewer to consider a multitude of questions. Although the answers may remain beyond our reach, we cannot help but feel that – through the act of questioning alone – we are better equipped to tac kle a culture consumed by an excess of unedited information.
Poised between contemporary mass culture and the history of art, and between painterly expressionism and the raw data of digital source material and computer code, Salavon's work is a significant achievement.
Joe Hill
Jason Salavon received his MFA from The School of the Art Institute of Chicago, in Chicago, IL, where he now lives and works. He has exhibited his work extensively throughout the United States and internationally, included shows at Los Angeles County Museum of Art, CA and the Chicago Museum of Contemporary Art, IL. His work is included in numerous prestigious public collections; LACMA, The Whitney Museum of American Art, NY, Museum of Contemporary Art Chicago and The Museum of Fine Arts, Houston, TX, to name but a few. This solo exhibition will be Salavon's first at the Mark Moore Gallery.
Categories
Tags